You missed orientation! Still want to take a Spring Block HGS class? It is not too late. Please contact Ms. Sylvia White by calling her at 276-619-4326. Hurry! The time to add a class does not last forever.

Every student electing to take a Governor's School class under the dual enrollment program, where one receives both high school and college credit while enrolled in a class, must complete a community college application for their regional college sometime in their academic career.

If this term's Governor's School class is your first dual enrollment class, you have never completed an application for a dual enrollment class through your high school or community college. Therefore, you must do so as soon as possible to receive college credit for your Governor's School class(es).

To access the appropriate application, please click here.

It is strongly suggested that you complete the application as soon as possible.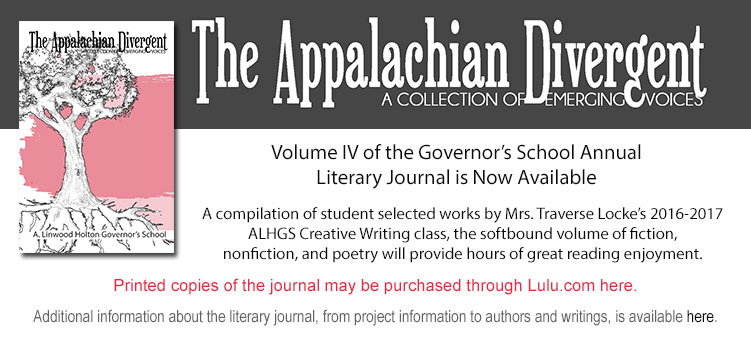 Considering a Governor's School class but would like to know more before you take the leap? To provide more information about classes for prospective Governor's School students, the first series of information videos are now available. The videos are interviews with class instructors as well as current and former students. By viewing the videos, prospective students will learn about the class format, course content, and students' experiences. Series videos will continue to be posted throughout the year. Follow the links below to the web pages on which the currently available videos are posted.
Advanced Multimedia Applications
Human Anatomy & Physiology
All History Department Courses:
Appalachian History, Western Civilization, and World Civilization
Please Note: The videos are "Under Construction."
Please check back...they should be available soon
So grab a Governor's School admission application, a box of popcorn, and prepare to learn about a great opportunity.



Smart Phone E-mail Access is now available
To use this feature:
Connect using your e-mail address and password
Once connected, the setup and access should be automatic by using the auto discover feature of the phone (auto discover is active on the mail server)
If connecting manually, use holtonmail.hgs.k12.va.us as the server name
You can reach the non-flash mail access web page here: http://www.hgs.k12.va.us/mobile
Unfortunately, due to variation in phones, OS of phone systems, etc., we cannot offer any advice and/or support beyond the above for phone e-mail access.

Please note that depending upon your connection, when connecting for the first time using your phone, you may have to log into your e-mail entering hgs\<user_name> rather than using just <user_name>. Password entry remains unchanged.

Considering a future career as an engineer but concerned about the cost and/or inconvenience of having to move to Blacksburg or Charlottesville to obtain an engineering degree? The University of Virginia (UVA) now has a special program for you, Engineers Produced in Virginia, that can reduce cost and allow you to earn credit toward an engineering degree through your local community college.
The University of Virginia has a partnership with the Virginia Community Colleges that gives students an opportunity to take classes at a Virginia Community College to earn an Associate of Science in Engineering degree (or equivalent) and become eligible to enter UVA's engineering undergraduate program. Students can then earn their four-year engineering degree from UVA in Charlottesville or in their community. Through an on-line program called Engineers Produced in Virginia, a student can earn a UVA Engineering Science degree while continuing to live in their community for all four years of school.
Students in this program may also qualify for a $4000 "two-year college transfer" grant when moving from the two-year to four-year program while working on their engineering degree.
Interested students may download a program brochure here (PDF file). For more program details and to learn of the significant cost savings that may be realized through participation in the program, please visit the program's web site.

Tour Your [Future] College Campus
Ready to begin your college planning? If so, check out
eCampusTours
for a virtual tour of hundreds of different colleges. This web site offers virtual tours of buildings and grounds for over a thousand different college campuses.