It's time for Governor's School Fall Semester 2022 Orientation.

If you will take a 2022-2023 academic year (i.e., "year-long") class and/or a fall 2022 semester block schedule Governor's School class you must attend a Fall 2022 Orientation session. (If you will take a spring 2023 semester Governor's School class you must attend Spring 2023 Orientation in January 2023.) During orientation you will not only be able to meet your instructor, learn of class polices, and receive class materials, you will also be introduced to the technology used in taking a Governor's School class. Furthermore, you will have the opportunity to meet your classmates and the Governor's School staff.

Orientation will be held in the Southwest Virginia Higher Education Center (map and directions) in Abingdon, Virginia. The Center is located on the campus of Virginia Highlands Community College. The room location of each orientation session will be posted daily on the entrance doors of the Southwest Virginia Higher Education Center. You may also ask the receptionist at the Center's lobby information desk for directions to your meeting room on the day of your orientation session.

Class orientations were held the week of August 1st through 5th. You missed it! (The original schedule is available through the Governor's School's academic calendar.)

The schedule for make-up orientation sessions is shown below. If you missed your orientation session, please contact the Governor's School Office immediately by calling Mrs. Michele Lilly at 276-619-4326 to make an appointment for a make-up session. Links to virtual sessions are available HERE (PDF).
The Fall 2022 Make-up Orientation Schedule is shown below.
Click on virtual in the graphic below to download the document with links to the virtual make-up sessions.
Sessions listed without the virtual label are in-person at the Southwest Virginia Higher Education Center in Abingdon, Virginia.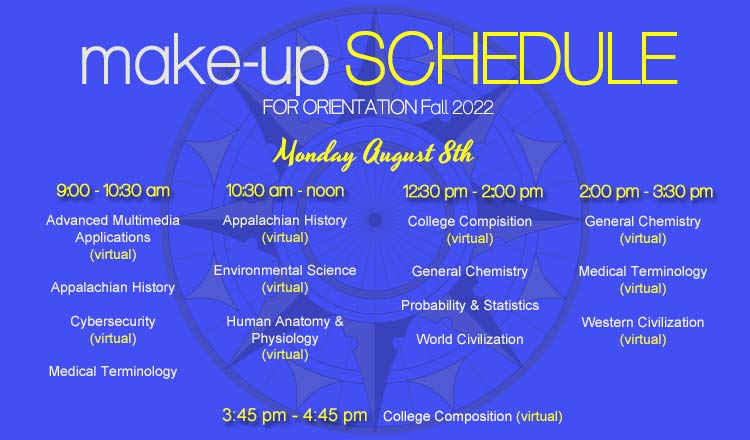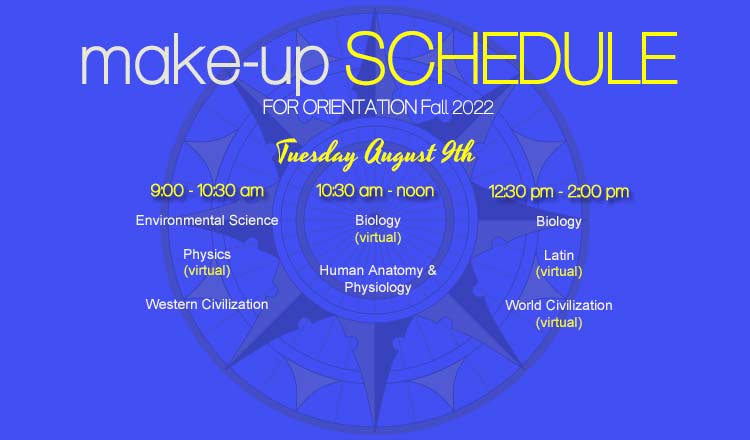 Considering a class? Student and Instructor videos for several classes are available below.
Please note that regardless of student obligations, class materials will not be mailed to the student and/or student's school. All class materials must be picked up by the student either during their assigned orientation period or subsequently by visiting the Governor's School Offices by appointment only.

About the Sessions
We are excited to announce that the Governor's School will host SAT Prep sessions for current ALHGS students and alumni, which will be lead by Tim Anderson of satprepteacher.com. The sessions will be available at no cost to current HGS students. Tim is a certified teacher who has helped thousands of students at over 50 schools earn the SAT score they want for college admissions and scholarships. In the prep sessions, Tim will share his SAT expertise with a sense of humor and energy. He continues to take the SAT test multiple times each year to keep his knowledge of the test current.
Schedule/Agenda
Students attending the prep sessions will be prepared for the Fall October 1st SAT Test. The prep sessions will begin with an in-person session for students on Friday, August 19, 2022 or Saturday, August 20, 2022 (students can choose the in-person opening session date that best fits their schedule). The opening session will be from 9:00 am – 2:00 pm, with lunch provided for all students in attendance. (Students attending Friday's opening session will need permission from their high school to attend this in-person session on a "school day".) A PDF of the Prep Sessions Schedule/Agenda is available HERE.
After the initial in-person session, Tim will provide virtual live sessions on the following six Monday evenings from 7:00 – 9:00 p.m. The evening virtual sessions dates are: August 22, August 29, September 5, September 12, September 19, and September 26, 2022. (There will be recordings of each session available if a student has a valid reason for missing a live virtual session). Students participating should commit to attend either Friday or Saturday's opening session and the following six Monday evening sessions to gain the most benefit from this program.
Registration
Registration deadline is Friday, August 12, 2022. To register for the SAT Prep sessions, please complete and return the SAT Prep Registration form, available HERE (PDF), by emailing the completed form to Ms. Sherrie Spiegler, HGS Student Support Specialist, at sspiegler@hgs.k12.va.us no later than the end of Friday, August 12th. Please note that to attend, the completed form must be received by Ms. Spiegler no later than the end of business Friday.

After a one year absence from the ALHGS course schedule, Physics returns to HGS beginning with the fall 2022 semester. The one semester class, offered in both the fall and spring semesters of the 2022-2023 academic year, will be an Honors Physics course offering high school credit. Not only will it be the first honors class offered by HGS, it will also be the first hybrid class offered, meaning that it will have a synchronous (instructors lead real time class) and asynchronous ("on demand") component.
HGS Honors Physics is a must have for anyone planning on attending college. Talk to your school guidance counselor today to determine your enrollment eligibility.

INAUGURAL OFFERING FALL 2022: The Governor's School will offer General Chemistry beginning with the Fall 2022 Semester. This eight college credit hour offering, with both parts - CHM 111 and CHM 112 - spanning the academic year, explores the fundamental laws, theories, and mathematical concepts of chemistry.
The course content and presentation is directed towards students who will major in science and/or engineering in college. Thus, the general purpose of this offering is to prepare the student for advanced study through development of skills in problem solving and in critical thinking, an understanding of the methods of scientific inquiry, and an understanding of the general concepts and principles of chemistry.
This Governor's School course is a Passport and Uniform Certificate of General Studies (UCGS) offering, meaning that the credit is transferable and satisfies lower-division general education requirements at any Virginia public institution of higher education.
Not planning on majoring in a science or engineering field but would still like to take a college credit chemistry course? The Governor's School will also offer the four college credit hour class Introductory Chemistry, CHM 101, during the fall and spring semesters beginning fall 2022. The course, like General Chemistry, is a Passport and UCGS transfer course offering transferable college credit.
Interested? Talk to your guidance counselor about ALHGS admission requirements and enrollment during the 2022-2023 academic year.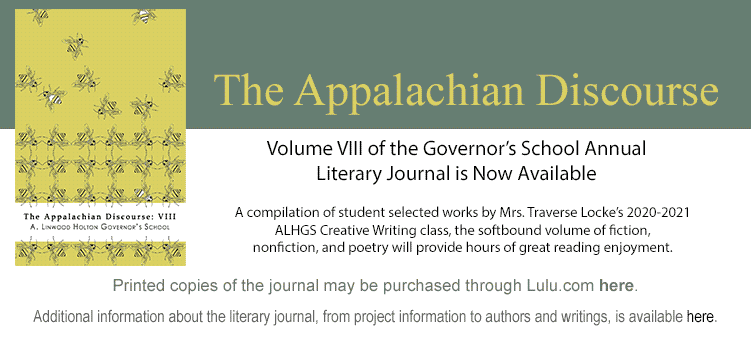 HGS Virtual School Browser Requirements
The software used by the Governor's School makes use of the latest web standards supported by the major browsers: Google Chrome and Mozilla Firefox. Thus, the HGS Virtual School (Canvas) and the HGS Virtual Classroom (Jigsaw) no longer support the Internet Explorer web browser. Students should not use the Internet Explorer or Microsoft Edge browser to access the HSG web site, HGS Virtual School, and/or HGS Virtual Classroom.
Soon students may not be able to access the HGS Virtual School/Classroom unless they are using the latest version of Chrome and/or Firefox. As new versions of Firefox and Chrome are released, students are obligated to keep their browsers up-to-date to have access to the school's sites.
You do not know what browser version you are using? Instructions on how to check and update Firefox are available here. Instructions on how to check and update Chrome are available here.
The above noted browser requirements are currently enforced.

Smart Phone E-mail Access is available
To use this feature:
Connect using your e-mail address and password
Once connected, the setup and access should be automatic by using the auto discover feature of the phone (auto discover is active on the mail server)
If connecting manually, use holtonmail.hgs.k12.va.us as the server name
You can reach the non-flash mail access web page here: http://www.hgs.k12.va.us/mobile
Unfortunately, due to variation in phones, OS of phone systems, etc., we cannot offer any advice and/or support beyond the above for phone e-mail access.

Please note that depending upon your connection, when connecting for the first time using your phone, you may have to log into your e-mail entering hgs\<user_name> rather than using just <user_name>. Password entry remains unchanged.


Considering a Governor's School class but would like to know more before you take the leap? To provide more information about classes for prospective Governor's School students, the first series of information videos are now available. The videos are interviews with class instructors as well as current and former students. By viewing the videos, prospective students will learn about the class format, course content, and students' experiences. Series videos will continue to be posted throughout the year. Follow the links below to the web pages on which the currently available videos are posted.
Advanced Multimedia Applications
Engineering Methods & Computer Programming
All History Department Courses:
Appalachian History, Western Civilization, and World Civilization
So grab a Governor's School admission application, a box of popcorn, and prepare to learn about a great opportunity.



Tour Your [Future] College Campus
Ready to begin your college planning? If so, check out
eCampusTours
for a virtual tour of hundreds of different colleges. This web site offers virtual tours of buildings and grounds for over a thousand different college campuses.