The Governor's School is pleased to announce a NEW HGS COURSE FOR 2020-2021: Survey of American Literature (ENG 241/ENG 242). This one semester asynchronous class will be offered for the first time by HGS in the spring 2021 semester. The six hour college credit course will emphasize individual writers and their works, beginning with works in the colonial period, continuing up to approximately the Civil War.

Discover the connections between ideas and patterns of development of American society and culture. Enroll in Survey of American Literature Today! (See the announcement above this one for enrollment instructions.)

Learn the language of heath care this coming spring at the Governor's School. This asynchronous class, which will provide three hours of college credit to students, will be offered this academic year in the spring semester 2021. How do you enroll in the course? Please see your school guidance counselor to enroll.

Beginning with the fall semester of the 2020-2021 academic year, the Governor's School will offer Latin I and Latin II. Why Latin? Latin is the basis for many scientific names, terms, and phrases as well as legal phrases. (You, as a US citizen, may one day be paying an ad valorem tax or if in the legal profession, filing an amicus curiae brief.) Thinking of entering the field of biology, medicine, or other healthcare related professions? If so, knowing basic Latin may be of significant benefit to you in your college and subsequent professional career.
Latin I will be offered in the fall 2020 semester followed by both Latin II and Latin I in the spring 2021 semester. All Latin classes will be asynchronous ("on-demand" classes) high school credit classes. (HGS Latin classes are the only classes offered by the Governor's School for which college credit is not available.)
Interested? Register Today! Talk to your guidance counselor about enrollment and HGS admission requirements. (Please see registration information above.)
Carpe Diem.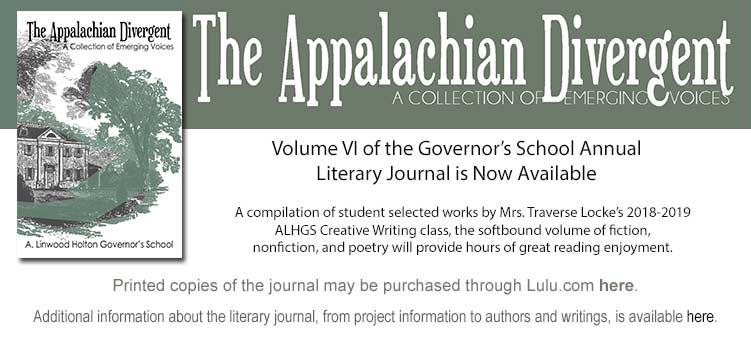 HGS Virtual School Browser Requirements
The software used by the Governor's School makes use of the latest web standards supported by the major browsers: Google Chrome and Mozilla Firefox. Thus, the HGS Virtual School (Canvas) and the HGS Virtual Classroom (Jigsaw) no longer support the Internet Explorer web browser. Students should not use the Internet Explorer browser to access the HSG web site, HGS Virtual School, and/or HGS Virtual Classroom.
Soon students may not be able to access the HGS Virtual School/Classroom unless they are using the latest version of Chrome and/or Firefox. Currently, one must use Google Chrome browser versions 75, 76, or 77, with browser version 77 being preferred. If one is using Mozilla Firefox, one must use version 67, 68, or 69, with browser version 69 preferred. As new versions of Firefox and Chrome are released, students are obligated to keep their browsers up-to-date to have access to the school's sites.
You do not know what browser version you are using? Instructions on how to check and update Firefox are available here. Instructions on how to check and update Chrome are available here.
Enforcement of the above noted browser requirements will begin no later than October 15, 2019.

Smart Phone E-mail Access is available
To use this feature:
Connect using your e-mail address and password
Once connected, the setup and access should be automatic by using the auto discover feature of the phone (auto discover is active on the mail server)
If connecting manually, use holtonmail.hgs.k12.va.us as the server name
You can reach the non-flash mail access web page here: http://www.hgs.k12.va.us/mobile
Unfortunately, due to variation in phones, OS of phone systems, etc., we cannot offer any advice and/or support beyond the above for phone e-mail access.

Please note that depending upon your connection, when connecting for the first time using your phone, you may have to log into your e-mail entering hgs\<user_name> rather than using just <user_name>. Password entry remains unchanged.



Considering a Governor's School class but would like to know more before you take the leap? To provide more information about classes for prospective Governor's School students, the first series of information videos are now available. The videos are interviews with class instructors as well as current and former students. By viewing the videos, prospective students will learn about the class format, course content, and students' experiences. Series videos will continue to be posted throughout the year. Follow the links below to the web pages on which the currently available videos are posted.
Advanced Multimedia Applications
Human Anatomy & Physiology
All History Department Courses:
Appalachian History, Western Civilization, and World Civilization
Please Note: The videos are "Under Construction."
Please check back...they should be available soon
So grab a Governor's School admission application, a box of popcorn, and prepare to learn about a great opportunity.



Tour Your [Future] College Campus
Ready to begin your college planning? If so, check out
eCampusTours
for a virtual tour of hundreds of different colleges. This web site offers virtual tours of buildings and grounds for over a thousand different college campuses.