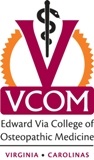 Anatomy and Physiology
Fall 2016 Field Trip
Edward Via College of Osteopathic Medicine and VA-MD College of Veterinary Medicine
The Anatomy and Physiology class will be holding its Fall 2016 Field Trip on November 20-22, 2016. Students enrolled in either the Fall 2016 block schedule or fourth period (i.e., 11:40 am - 12:30 pm class meeting time) year-long class are eligible to attend. (All other students will be eligible to attend the Spring 2016 Field Trip.) Students will be visiting Edward Via College of Osteopathic Medicine and Virginia-Maryland College of Veterinary Medicine, both in Blacksburg, Virginia, on Monday, November 21, 2016. Anatomy students will be included in lecture, labs, and current research while there. Students will also take part in a discussion with admissions counselors and current medical students so they can better understand what life is like preparing for a career in medicine. Field Trip attendance will, in part, fulfill requirements for dual enrollment course credit.
The field trip will begin on Sunday, November 20, 2016 at 6:00 pm at the Southwest Virginia Higher Education Center, Abingdon, Virginia. (Once arriving at the Higher Education Center at 6:00 pm on Sunday, students should report directly to their designated bus in the Center's parking lot. There will be no registration and/or meeting inside the Center. Students will be informed of their "designated bus" by their instructor prior to November 20th.) The field trip will conclude on Tuesday, November 22, 2016 at approximately 3:00 pm at the Southwest Virginia Higher Education Center.
To attend the field trip, a student's parent or legal guardian must complete, sign, and return to the Governor's School, with all documents received at the Governor's School Office no later than Friday, November 4th, the following:
Linwood Holton Governor's School Permission Form (all forms available below)
Linwood Holton Governor's School Emergency Medical Form
Linwood Holton Governor's School Participant Wavier and Hold Harmless Form
Edward Via College of Osteopathic Medicine Consent Form/Lab Wavier/Photographic Release form
Also, a deposit check made out to Linwood Holton Governor's School for the amount of $50.00 must be included with the above completed forms. Cash, money orders, or cashier's check cannot and will not be accepted. (The deposit is returned if the student honors their trip reservation.)
Click Here for all of the above listed forms as well as a description of trip details in a downloadable PDF file format.
(The linked file must be downloaded and then printed. Adobe Acrobat or Abobe Reader is required to view and/or print the PDF file formatted document package.)

Please send all of the above completed forms along with your payment to:
Holton Governor's School
Attn: Field Trip
P.O. Box 1987
Abingdon, VA 24212

To allow sufficient time to secure rooms at the hotel, students must have their check and paperwork to the Governor's School
by Friday, November 4, 2016 in order to participate in this field trip.


Return to Announcements Page